SPECIALISING IN INTERNATIONAL
AND DOMESTIC TRANSPORT,
FREIGHT FORWARDING
AND WAREHOUSING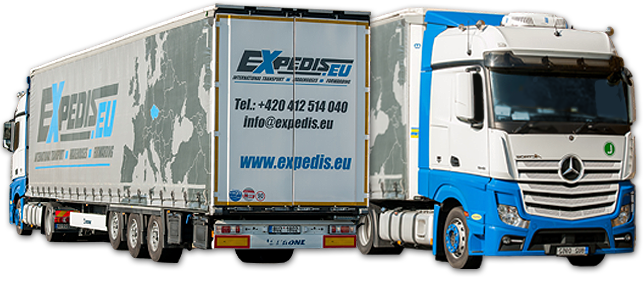 TRANSPORT
International and domestic road transport
A fleet of modern vehicles with a capacity ranging from 1 to 38 Euro-pallets (1-20cbm)
All vehicles equipped with GPS
Insurance of up to CZK 10 million, in compliance with the CMR Convention
Transport of dangerous goods is in accordance with the ADR Treaty
Support for Just in Time processes
FREIGHT FORWARDING
We work with reputable companies
Dispatcher flexibility, and information service
Freight tracking, from loading to unloading
Dispatch, using Just in Time, Full Time Load and Less Than Truck Load
Combined transport: road, rail and road
Special transport of non-standard containers (width, height and weight)
FULL WAREHOUSING SERVICES
From consolidated shipments of pallets to bulk shipments
We have 2,500m2 of warehousing space and 20,000m2 of outdoor storage space
Network of partner warehouses in the Czech Republic: 15,000m2 of space
Contract warehouses in Italy, Germany, UK, the Netherlands and Spain
Process managed by EXSS system
Warehousing based on client needs in terms of technology and local requirements
ABOUT EXPEDIS spol. s r. o.
We have been providing domestic and international road haulage and freight forwarding since 2002. We constantly build on and improve our services, with a focus on maximising the benefit for you – our customers. Since 2007, we have also been offering full warehousing services, using our own warehouses and those of our partners all over Europe.

We take pride in our reliability, built on our shipment capacities and long-term relationship with reputable partners.
EXPEDIS in numbers
6500


Shipments per year

3 000 000


Kilometres per year

1 000 000


Tonnes of material transported annually

more than

20


satisfied long-term customers
Russia, Portugal and Turkey


The farthest destinations we ship to

= t('Jsme na trhu více než 15 let') ?>


= We have been on the market for more than 15 years = 15 years of experience
CONTACT US
We would be pleased to help you
EXPEDIS spol. s r.o. Headquarters:

Havirska 346/100
400 10 Usti nad Labem
CZECH REPUBLIC


Tel.: +420 774 234 127
email: info@expedis.eu